Coffee Table Books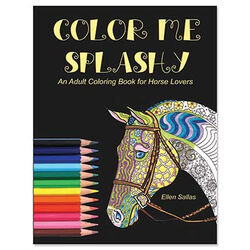 Price reduced from

$9.95

to
$7.96
With stunning photography and incredible equine imagery, coffee table books are a great way to bring a subtle equestrian touch into your home decor. Place one on your coffee table or your end table to entice your guests to flip through these well-designed equestrian books. They are also great for adding a pop of color to a well-curated bookshelf.
Available from your favorite equestrian publishing companies and photographers, these equine-inspired coffee books will appeal to horse lovers of all ages. We carry books for dressage riders, hunter/jumper riders, western riders, and trail riders in addition to our general interest equestrian books. Our books also showcase a wide variety of breeds, including Gypsy horses, Arabians, Mustangs, Friesians, and Quarter Horses.
Full of equestrian inspiration and heart-warming stories, we love starting our mornings by reading these books with a steaming mug of coffee or tea. In the evenings, flipping through the pages is a great way to unwind and prepare for another day of joy in the barn and in the saddle.
Coffee table books also make wonderful gifts! Consider purchasing a hardcover book full of equine photography for your barn mate, trainer, instructor, veterinarian, or farrier. If you have any questions regarding the coffee table books for the equestrian that we carry or would like assistance choosing the best book for you, we invite you to reach out to a member of our friendly and highly-trained sales staff.