In-Store Pickup
Now it's easier than ever to shop with The Cheshire Horse!
Shop online and skip the shipping fees. With in-store pickup, your order will be ready for pickup at our store in Swanzey, NH within a few hours.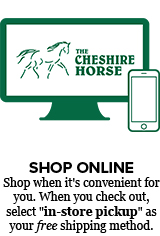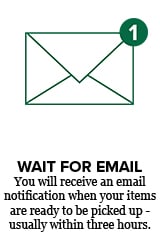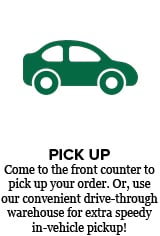 In-Store Pickup FAQs
Is there a charge for in-store pickup?
In-store pickup is a free service we are happy to offer our customers. There is no extra charge.
Where can I pick up my order?
Bring the email notification you receive when your order is ready, and pick up your order at the front counter. For in-vehicle pickup, park in one of our curbside pickup parking spaces or pull into our drive-through warehouse and give us a call to let us know you've arrived.
Which stores offer in-store pickup?
In-store pickup is available at both The Cheshire Horse locations.
Which items qualify for in-store pickup?
Currently all items except trailers and tractors qualify for in-store pickup.
When will my order be ready to pick up?
Same-day pickup is available seven days a week. Your order will typically be ready for pickup within three hours from the time that you place your order online. We will send you an email when your order is ready to be picked up. Orders placed after 3:00 pm will be available for pickup the next day. Blackout dates may apply during holidays and other special events.
What should I bring to pick up my order?
Be sure to bring the email notification you received to notify you that your order was ready to be picked up. Either print it out, or show us on your mobile device.
Can my friend or family member pick up my order for me?
Yes, as long as they have the email confirmation that the order is ready for pickup, they can pick it up for you.
How long will my in-store pickup order be held for me?
We will hold your order for seven days, at which point we will return your items to our inventory.
When will I be charged?
You will be charged when your order is pulled from our inventory. This will be within three hours of the time that you complete your order online. It may be the next day if your order was placed after 3:00 pm.
Can I return in-store pickup items?
Yes. Returns for in-store pickup items will be handled like all other returns. Read our Return Policy.
I have a question that isn't answered on this page, or a special request.
Please call us at 877-358-3001, and we would be happy to help you! If you have a special request for your in-store pickup order, please call us prior to picking up your order.